THIS WEBSITE IS NOT MAINTAINED ANYMORE AND ONLY PUBLISHED AS A PROJECT ARCHIVE!
It contains summarised information previously found under www.integrated-assessment.eu.
A Guidance System for an Integrated Assessment
The Concept
Integrated environmental health impact assessment provides information on potential environmental influences on public health, in order to help people make better decisions to protect and improve human health.
It can be defined as:

A means of assessing health-related problems deriving from the environment, and health-related impacts of policies and other interventions that affect the environment, in ways that take account of the complexities, interdependencies and uncertainties of the real world.
Key features of IEHIA are that:
It is specifically designed to deal with complex issues, which would usually be beyond the scope of more traditional forms of health risk or impact assessment (see links to Other assessment methodologies, left);

It considers both positive and negative effects on health – i.e. it recognises the environment as both a hazard and a source of beneficial resources (environmental services and capital);

It attempts to provide a synoptic and balanced measure of impacts, by weighting and summing the various health effects;

It is designed to be participatory – and thus to involve all the key stakeholders with interests in the issue.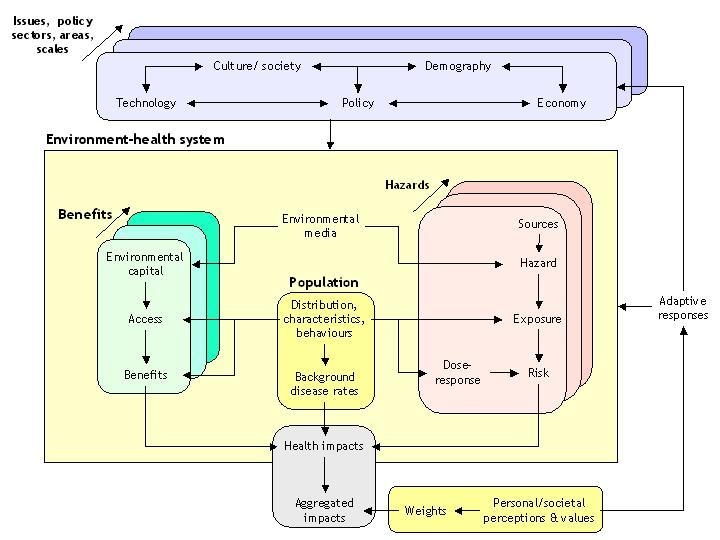 Steps in IEHIA
The range of questions facing decision makers is large and varied. Integrated environmental health impact assessments thus take many different forms, and often need to be developed and adapted to match the spcific issue being addressed. The issues are also often complex, and touch the lives of a wide range of stakeholders. As a result, many assessments do not proceed in a neat, linear way, but are, instead, somewhat circular and reiterative.
In general terms, however, we can define four key steps in any assessment: issue-framing, design, execution and appraisal.
Issue framing is done to define clearly what is to be assessed, and who should be involved.
Design consists of deciding how the asssessment will be done - including the data and methods that will be used.
Execution is the stage of actually doing the assessment - collecting the data and running the models to determine health impacts.
Appraisal involves reviewing and interpreting the results of the assessment, and communicating these to the end-users.
These steps (known by their initials as the IDEA framework) provide a valuable structure within which to organise and run assessments. Following this framework helps to ensure that assessments are targeted as the right issue, are based on good scientific principles. Note also that stakeholders should be involved (in different types of discource) at every stage, in order to make sure that the assessment is acceptable to the people concerned, and thus that it can provide a sound basis for effective decisions.