Due to maintenance work the tool is currently not available!
To the EN-easy online tool
As an online tool, EN-easy offers a simple possibility to evaluate climate protection measures for districts and communities. The evaluation is based upon final energy and carbondioxide emissions balances. EN-easy classifies climate protection measures according to their economic efficiency and gives recommendations on the order they should be implemented in.
EN-easy addresses urban planners, climate protection managers, decision makers and other interested users who need an energy- and CO2 balance for their districts and communities (buildings, traffic, energy supply) and recommendations concerning the order of their actions according to economic efficiency.
The online tool has been developed at IER in co-operation with Drees & Sommer, Karajan and M.O.S.S. Computer Grafik Systeme GmbH in the joint research project Systemanalyse für die städtische Energieplanung mit einem modularen Planungsinstrument – methodische Grundlagen und Fallbeispiele (System analysis for urban energy planning with a modular planning tool – methodical basics and case studies).
Practice
Starting point for the evaluation of climate protection actions is to calculate an energy- and CO2-balance on basis of building data and ratios. The building data comprise more than 11.000 communities in Germany and are based e.g. on census data. The balancing reference can be flexibly chosen between districts and communities. On the district level, the user can manually choose the area he wants to investigate. Besides general data like surface and population, the model provides data concerning building type, age, surface and number. Final energy consumption and CO2 emissions are specified proportionally per sector heating/cooling, electricity, mobility or per consumer sector residential buildings, non-residential buildings and transport. Measures to reduce CO2 emissions are illustrated in a step curve according to their reduction potential [t CO2] and specific abatement cost [EUR/t CO2 reduction]. They are categorized into residential and non-residential buildings, transport and comprehensive measures. Climate protection measures are displayed in ascending order after their specific abatement cost and thus recommend the order of implementation. Measures with negative specific abatement cost even today are economically sensible, e.g. their implementation saves CO2-emissions and costs. Measures with low specific abatement cost show potential close to the market, whereas those with high specific abatement cost are not easy to be made economically accessible (without respective promotion incentives).
Online Tool and Handbook
Handbook

The EN-easy Handbuch contains additional information for using and applying EN-easy online tools.

EN-easy Online

Your access to the EN-easy online tool.

Due to maintenance work the tool is currently offline.
Contact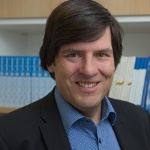 Markus Blesl
apl. Prof. Dr.
Assistant professor
Head of department